BUY 1  - GET 1 FOR 50% OFF!

Pick 2 SmudgeBalls and add to cart, and you will get 50% off on one!

THIS IS THE ONLY ORIGINAL SMUGDEBALL!

We know that house pets are generally attracted to balls.
Rolling a ball across the floor is highly similar to the scampering movement made by prey animals.
This then triggers your pet's predator tendencies and they will run after the ball.
SmudgeBall™ is perfect if you want to try to stimulate them and help evoke their natural instincts and give them a much needed physical exercise.


• HI, I'M SMUDGEBALL™ •
I hear humans love cats. I'm not sure why - they seem very scary to me so I just keep running away from them until I'm sleepy and tired.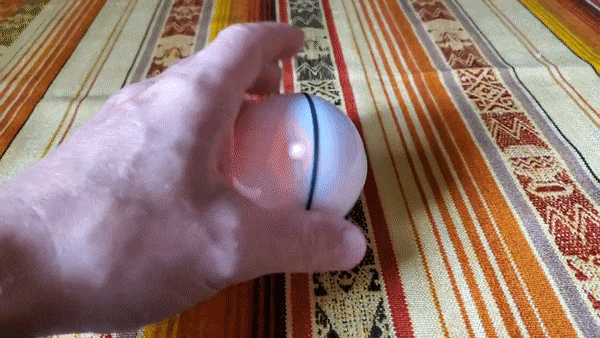 • IT'S A CAT'S WORLD... •

Sometimes humans put some catnip inside me and cats want to catch me even more, they literally go mad! So I have to use every trick in the book. I jump, run, spin and sprint around the room. It's like I'm a mouse and not a bit of circuitry enclosed in a hard shell.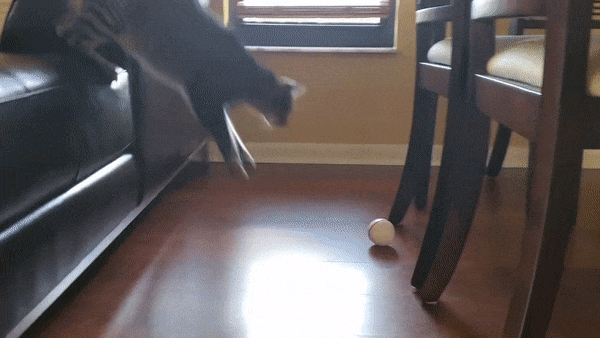 • ...BUT I CAN SEE! •

Anyway, I need to thank the human who made me for giving me situational awareness so that I don't keep banging around and getting stuck all the time. Cats are smart, so I need to be smarter than them!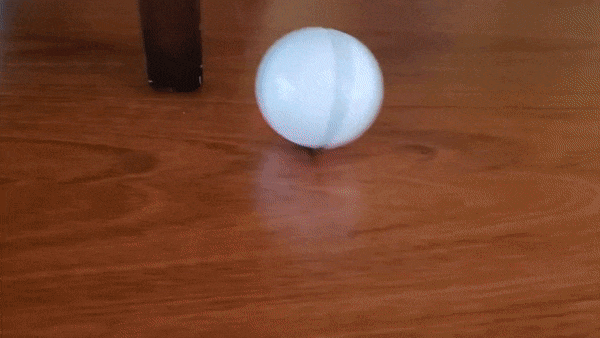 • I CAN GET WET SOMETIMES! •

One time I ended up in a huge water bowl. I think cats come there often and lick the water for some reason. I'm not sure why - water is bad for your circuits, but thank god I can survive a splash or two. They keep telling me to stay away from the water though if it ends up penetrating my skin - I'm toast. Literally.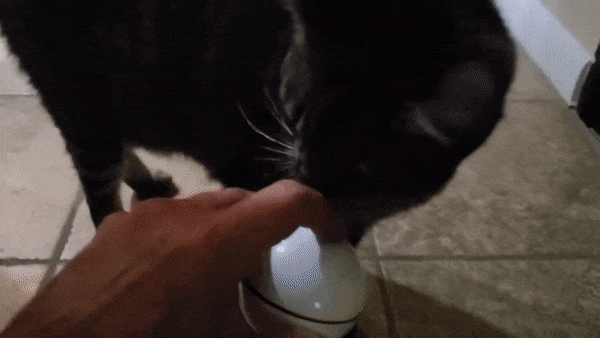 WHAT CAN SMUDGEBALL™ DO?

SAVES YOU TIME
We love to play with our cats. That being said - cats can play around for hours and they seldom get bored of it.

SmudgeBall™ doesn't need to go to work, doesn't need to eat or rest after a long day - it just needs a recharge from time to time and it'll keep going for days!


THE THRILL OF THE CHASE
Domestic cats, unlike their wild cousins, don't see a lot of action inside a cozy home where they have all of the food they need, and cuddles for days. 

This can lead to them becoming lazy and negatively impact their mood and their weight - further affecting their health negatively. 

SmudgeBall™ solves this problem in a fun and engaging way!



PACKAGE CONTENTS
1x SmudgeBall™
1x Instruction manual
1x USB A to USB B charging cable
Keep Having to Rewrite This Because It Keeps Getting Deleted
I saw an ad for the Smudgeball and thought it was going to be a great gift for my sister's birthday. I placed the order on May 7th and thought it would arrive before her birthday on May 28th. This is when things began to fall apart. Only AFTER the order was placed did I see that it was going to take 25-30 days to ship. Though I was disappointed to see this, I tried reaching out to the company to get an update. No response. I tried sending another request from a separate email address to see if it had been potentially filtered. Still no response. At this point, I had to message their Instagram and Facebook just to get any form of response. They finally responded saying that all of my previous customer service inquiries via their website and email had been filtered as spam. Don't worry, it gets better. They said that their expected shipping delivery only counted Monday-Friday, so they technically had until June 23 to deliver my order (a date that seemed absurd to me but as a small company, I thought they were trying to do their best). The tracking number on the website they provided also did not work and I had to contact them yet again to receive an updated number. With all of this, the company said that if my order wasn't delivered by the 23rd, they would issue me a refund (a small $26 I figured they wouldn't make a big fuss over). My package did not arrive until the 26th and I expected them to refund my order as promised. They then backtracked and said it now was a 60 day policy to be able to receive a fund, despite their terrible customer service, package tracking and overall product. No apology. No refund.
Keep having to rewrite this review because they keep deleting my reviews:
I could not iterate enough how poorly run this company is. Their customer service is poorly designed and poorly managed. They pick and choose their policies to abide by. Their tracking numbers for their products don't even work unless you contact them directly (don't bother with their website or email, it will be sent to their spam). Yet they will somehow make all of their shortcomings excusable. Take your money elsewhere. Unless you are a fan of waiting close to 2 months for a mediocre product and sending weekly emails and messages just to get updates on your order, leave this website and just get a toy off Amazon.
Durable and attractive to my babies
The toy is well made of good quality durable hard plastic shell. I ordered pretty pink color. There is no need to buy battery. It charged by most popular USB which consistently bring enough power to move around in motion. I turn it on when I go to work and charge it when I sleep. I haven't try how many days the battery will last. I am curious. I will try it over the weekend. My furbabies are 4 years old and follow the ball for exercise. I was surprised that the ball is still intact after my cat kick it off staircases and landed downstairs. It is also a good decoration, not like other cheap made toy that I have to hide in the cat toy box when guests come over. The toy has soft sound when it is in motion that doesn't bother my cats at all when they sleep. Highly recommend it. I give it five stars.
Keeps kitties busy while we eat
We've had much quieter meals since we started using this to distract our cat during meals. She only gets aggravating when we both sit at the table & eat at the same time - she does all kinds of trying to jump or climb where she shouldn't when we're eating. Even though she doesn't chase it or actually play with it, she does run around it & pays attention to it which distracts her from her bad habits described above. We only put it out when she misbehaves like that - it works every time. She finds it interesting. Very beneficial to good meals at our house!! Quality seems good & hope it lasts a long time. Only had it a month or so, but doing good!!
Keeps cats busy
Right out of the box, this ball had enough charge for about 10 minutes of fun for my cats. After recharging, the ball went all the way around the house and after 20 minutes, it was still going strong. (I like that it can be recharged, rather than run on batteries!) Both of my cats are fascinated by it. They don't actually chase it, because it doesn't move fast enough for that, but they do follow it around as though trying to figure it out. I only put it out once in a while so they don't get bored with it. If it keeps them occupied for 15-20 minutes at a time so they aren't tearing up the house, that's a successful toy in my book!
Fun cat toy
This is a neat concept, the toy runs for a long time off one charge and is completely self-propelled. Made of very durable plastic, the little light on the body helps you find it if it's rolled somewhere dark. It was quieter than I thought, we'd turn it on and lose track of it because it wasn't obnoxious at all. Plus the tread allows it to roll on carpet as well as hard surfaces. The only drawback was that my cat didn't really like it. I don't think that was in any way a flaw with the toy, just my cat. We use it to herd the cat between rooms now, will probably test on a different cat to get better results. Liked the toy though!
Cat is Intrigued -- But I have a question about the light?
We just received this toy, and it caused my cat to leave her comfy cat tree to figure out what this "strange" toy could be. I think it will continue to entertain her. I do have a question about the light inside. Is it a standard LED light, or is it a laser? I would really like to know.
BEST THING EVER
I adopted a 4-month old kitty just a couple of weeks ago, and I wanted her to stay active and "sharp" so I got her this ball to chase around the house. Boy it's everything described and much more. It's like the fun never stops and the kitty sleeps like a real baby when she gets tired. I can see that she's happy and fulfilled and that makes me even happier!